Workforce Management and Covid-19: 4 Ways to Focus Your Organization and Move Forward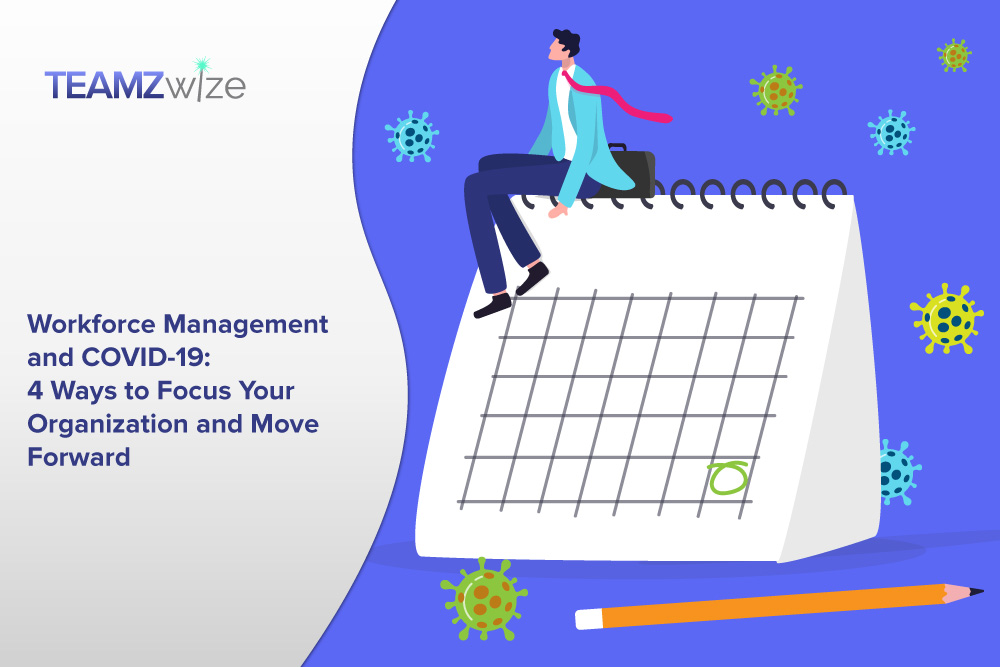 In our last article, we discussed some considerations for your business, leadership, and employees during a crisis. In this article, we'll be discussing some tips for how to successfully transition your business and workplace to better deal with Covid-19 and anything else 2020 might throw your way.
Where You Should Focus
1) Up-Dating Policy, Procedures, and Protocol
This needs to be done quickly but carefully; should also be done whenever your organization is undergoing a change. Cover your bases with updates, and ensure they're known and understood by leadership and employees.
Get Feedback

Are current circumstances impacting shifts and scheduling?
How can this be managed to help out your employees while still supporting your business needs?
Policy and protocol should be inclusive of your employees' needs for it to be both effective and easier to follow
Keep an Eye on Compliance

Have regulations changed?
Are you actively tracking and keeping up with changes?
Again, we mentioned some things to look out for with compliance in our last blog, but it's important that policy, procedure, and protocol always reflect any regulatory or compliance changes
2) Digital Upgrades
Social distancing, automation, and digital solutions are the new normal. Things will not be going back, and investing in ways to make your workplace safer and more client friendly are important for both short and long-term organizational stability.
Know Your Options

How much are you willing to invest?
What's out there and what does your current solution or solutions, if applicable, look like?
Have a list of priorities ready, have a budget in mind, and if in doubt, find someone to walk you through the selection and upgrade process
What to Look For

Scalability
Covers all of your bases

For Workforce Management, this means:

Scheduling & Compliance
Communication & Employee Engagement
Management & Planning

Adaptable to your individual business' needs

And adaptable in a crisis (e.g. tracking employee COVID exposure or testing)

Will achieve a timely ROI
User-friendliness and mobility
3) Health and Safety
What does your new health and safety plan look like? If it hasn't changed, you're opening your business to a number of risks.
Look to the Experts

What's been successful for other organizations in your industry?
What does relevant thought leadership say?
Consider bringing in a professional health and safety consultant
Get Feedback, Prioritize Well-Being

Again, ask your employees and leadership what's important to them in terms of feeling safe at work, and what changes they would like to see put into place

Communication and engagement are key

Look into testing and tracking COVID in your workplace
Consider mental health and well-being as well as physical health and safety
4) Cross-Training and Adaptation
This is a big one, no matter what industry you're in. Something COVID has highlighted for a lot of businesses is how vulnerable they are when client and customer demands or employee availability changes. Employees, leadership, and businesses themselves have to become more adaptable.
Diversify

What does your online and mobile presence look like?

Can clients, customers, patients, employees, etc., contact your business and do everything they need or want to do remotely?

Can you easily track and respond to shifts in demand?
Make plans and transition now to keep your organization going
Build Skills and Look into Automation

When an employee is unable to work or you need to downsize, can that job still be done and done well?
Do you have training and mentorship programs in place?
Doing more with less is often necessary during a crisis, planning for it will put you a step ahead.
Make Plans and Move Forward
Covid-19 has affected both organizations and individuals in so many different ways. The important thing now is taking stock of where you are, refocusing, making a plan, and taking action. We hope the four areas of focus listed above will help get you started.
If you need help getting your organization post COVID and future ready, contact us.