Workforce Management During a Crisis: Making Sense of Shifts, Rotas, and Rosters When Times are Tough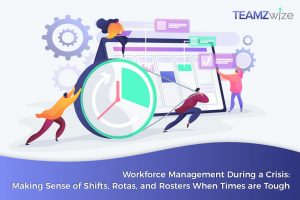 Shift work and managing shift work can be stressful at the best of times. Add to that a crisis, such as Covid-19, and it can feel endlessly overwhelming. That said, there are ways to make things easier on both management and employees when times are tough.
Workforce Management Crisis Considerations:
The first step to getting a handle on things is to get back to basics.
Assess Your Team
What does your team look like?
Where are the gaps?
If your roster is lacking before a crisis hits, the added stress, fatigue, and other outside factors could result in employees leaving if things are not managed properly.
Review what your workforce team looks like. Are there skill gaps or are more people needed in general? Is a buddy system possible for labor intensive work? Can you connect with other organizations in your area or network to help fill gaps? Are you insuring the right people with the right skills are on the job when needed—and are employees' shifts are being managed appropriately and responsibly?
Communication is Key
How are you communicating with your workforce team?
How easy is it for you to get information to your team and your team to get info to you?
In a crisis, things can change quickly. The right information needs to get to the right people, and messages need to be consistent. Equally important, staff need to communicate with each other and management in an easy and direct way to avoid confusion, particularly when it comes to shift and rotation obligations.
It's important that all team members are using the same means of communication. Communication should be easy to track and follow. When changes are made by either management or employees those changes need to be easy to see and access by everyone affected.
Compliancy and Payroll
Do shifts and rotations need to be altered and are all compliancy concerns being met?
Are any changes being tracked accordingly by payroll?
Union rules, the need for more overtime, new predictive scheduling laws, new regulatory concerns—normally complicated compliancy and payroll issues can become twice as demanding to keep up with during a crisis. Things can change quickly and often, and payroll and scheduling need to keep up, or it could result in significant productivity losses and increased labor costs.
Do frontline workers need hazard pay? Are employees entitled to compensation for items they've purchased to deal with the crisis while on the job? Review things often, check in with staff, and make sure payroll is on the same page.
Safety
How are safety and compliancy concerns being managed during shifts?
How are your team members holding up during this crisis?
It's extremely important that information on safety and compliance are upheld, and that workers feel safe during their shifts. It's also important to keep track of how employees are doing on a personal level and to makeshift and rotation adjustments accordingly.
Additionally, team members are likely to be experiencing more personal issues than normal, such as illness or changes in child care availability. Make sure shifts, rotations, rosters, and pay are altered to help manage stress and keep employees feeling safe.
Tracking and Planning
Are you accurately tracking performance, costs, resources used, etc.?
Are you able to quickly make appropriate changes when they're needed?
No matter what the crisis is, work still needs to be done correctly and as efficiently as possible. A crisis can greatly impact an organization's profitability, so tracking resources, and monitoring trends and patterns within the business is vital when it comes to making the right decisions.
Are patterns easy to track and analyze? Can you see easily see where money and supplies are going? Is there an opportunity to change operations to capitalize on an increased demand?  Thorough and accurate monitoring and reporting are vital for business sustainability, both in and out of crisis mode.
Know When to Seek Help
 Workforce management during a crisis can require a lot of mental and physical energy. However, there are ways to make things easier.
Start with the basics listed in the section above.
Seek out advice in the form of thought leadership, peers, employees, and professionals.
Look into automation and digital workforce management.

There are a lot of modern options to make every aspect of workforce management easier and more efficient.

Make sure you're taking care of yourself, and that your employees are doing the same.

It's much easier to weather a crisis as a team.
Need help, advice, or direction when it comes to preparing your organization for a crisis or the future? Contact us.